A list of hacks, must-dos, and general advice to make an Economy-class flight a little more pleasant. (Tip number 8: Upgrade to Premium Economy or Business.)
SIT AT THE BACK OF THE PLANE
Obviously, you're trading something quite valuable here: Being able to disembark earlier. The truth is, though, for the extra 10 or so minutes that you have to wait before you can make your way to the door, you can more easily slip to the galley and ask for snacks, a gin & tonic, or meals if there are any leftover. There's also a bit more room at the back for you to stretch out once the lavatory crowd has died down.
ASK FOR MORE FOOD IF YOU'RE HUNGRY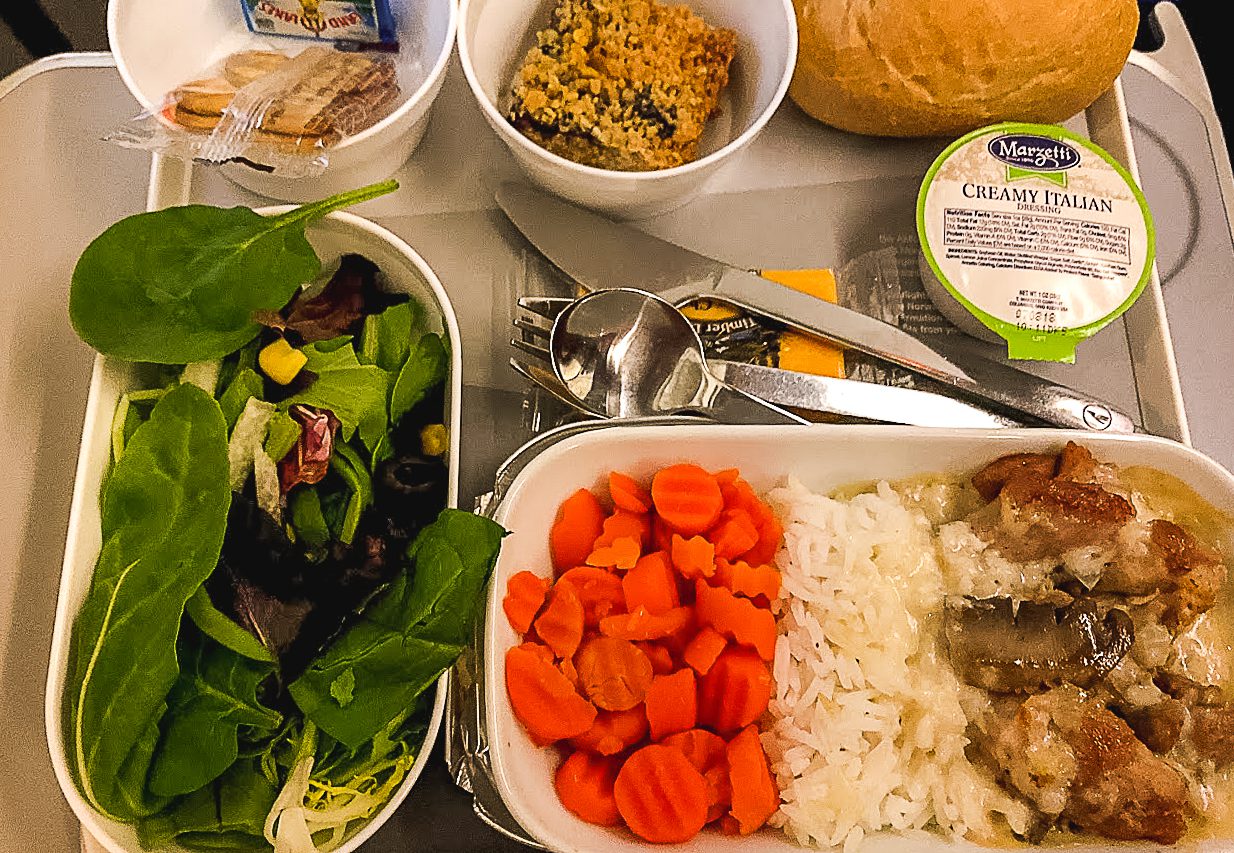 Most flights stock up extra meals that end up being thrown away if they're unconsumed. A few hours after the main meal service is over, make your way to the galley and politely ask if there are any leftovers. Unless the flight is completely booked, your request is more than likely going to be accommodated. You may not get the complete tray—just the main course at times—or you may get the vegetarian or kosher option, but nevertheless, it's still a satisfying meal.
GET EXTRA CUSHIONING
Roll up a jacket, stuff the provided blanket into the pillow, or buy a dedicated lumbar support pillow and place it at the small of your back. Doing this mimics the natural bend of the spine and helps prevent lower back pain once you get off your seat at the end of the flight.
RECLINE
A slight recline in your seat greatly improves your comfort level during the flight. However, be considerate and do not recline completely—and make sure you shift it upright during meal service.
DRESS FOR COMFORT—BUT NOT A SLOB
Save your skinny jeans and button-front shirts for when you're on the street. While 30,000 feet in the air, roomier is better, and that includes what you'll wear. A sweater and a pair of joggers are great, as are stretchy jeans (pick up an inexpensive pair of Ne(X)t level flex jeans from American Eagle Outfitters) and a Merino wool T-shirt. These slim pants from Duer are also a personal favorite for its soft-as-silk feel.
KNOW THE TRADE-OFF FOR BULKHEAD SEATS
Bulkhead seats are the first row of seats in between sections of the plane, usually right after the galley or lavatories. They have more leg room compared to the rest of the seats and you don't have to worry about the person in front of you reclining. Best seats in Economy class? Well, not quite. They come with their own caveats:
You cannot have anything on the floor in front of you during take-off and landing.
The bulkhead row has the bassinets for children. Be prepared for the possibility of sitting next to a crying baby.
Your entertainment console is underneath your seat, which restricts the width. In addition, you will be asked to stow them during landing, while everybody else still has a few more minutes to finish the movie they're watching.
MIND YOUR LOWER EXTREMITIES
Dress for comfort, as mentioned above, but you should don compression socks during the flight. These snug-fitting socks "hug" your legs and help improve blood circulation and prevents blood from pooling. In turn, you help ensure that deep-vein thrombosis, a life-threatening condition that can affect people who are inactive for an extended period of time—i.e. being stuck in a flying tin can for several hours.
Also, a pair of inexpensive slippers, such as these twill cushion slippers from Muji, allow you to take off your shoes without having your bare feet touch the floor.